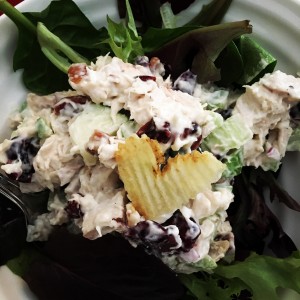 Nourish Yourself Chicken Salad
Ok, time for true confessions… Lunch can be hard. It's the meal I'm most likely to skip during the day. Shhhh… don't tell my health coaches. 😉 I get busy and wrapped up in what I'm doing and before I know it, it's 3:00 and I'm starving.
Anywho… Back to the chicken salad. When I have something ready to go in the fridge it's easy to pack a salad  for a gig or to grab lettuce wrap sammy between client calls.
Meal planning is key. I make this recipe with left over roasted chicken (either home made or rotisserie from the super market). You can also use left over baked chicken. #cookonceeattwice
Making sure I get a nourishing lunch at the right time of day prevents me from too much snacking during the afternoon or over eating during dinner.
How many times have you justified an extra serving at dinner by saying, "I skipped lunch…?"
Es no bueno.
When that song list is playing in your head, you can eat up to twice as much.
So, having solid lunch options planned out preempts all of that business and keeps me feeling great so I can keep on nourishing.
Here are the ways I enjoy this chicken salad:
In a bowl with greens.
In romaine lettuce wraps.
On a slice of GF toast with a lettuce top.
Or in endive cups as a party appetizer.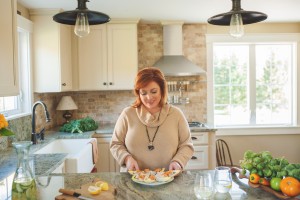 Combine all ingredients and stir.

Serve on a bed of lettuce, topped with avocado and cukes.

Fill endive cups and top with fermented carrots to serve at a party.

Chew each bite 20 times and enjoy!