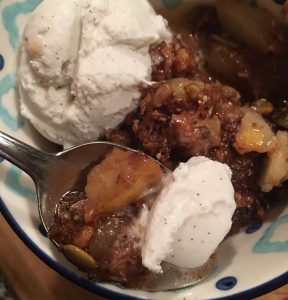 If this isn't the perfect ending to a day of apple picking and family photo shoots, I don't know what is. All the flavor of your grandmother's version, without the grain and all the sugar.  A dose of your special magic alchemizes nuts, seeds and coconut into a delicious crisp that will having you craving all the fleece and wool socks you can find. It's like childhood in a bowl without the guilt.
However; if you want to add a bit of gluten free oatmeal cuz you just can't help it, go ahead… it's still #betterthan straight oats. What if there was a place in all the middle… in all the 50 shades of gray and all the colors of the rainbow? A place of a little of this and a little of that?
You get to choose. What works best for you?
Have fun with the #alchemy of it all and use a variety of apples, some courtlands, macintosh and honey crisp. I also had a few perfectly ripe bartlett pears that I peeled and chopped as well; which added a whole new dimension to the flavor profile.

Peel and chop apples, and place in 8x8 glass baking dish. Spritz with lemon and sprinkle with cinnamon.

In a medium size mixing bowl, combine butter, nuts, seeds, coconut, cinnamon, sugar, honey and oats (if using) and mix well with your hands. Roll up your sleeves and get right in there... or even better... let the kids do it.

Once well combined, spread over the apples and pat down.

Bake for 40-45 minutes or until apples are bubbling up around the edges.

Serve warm with non-dairy vanilla bean or even salted caramel (this lil combo tastes like a caramel apple from the county fair!) ice-cream. We love Nada Moo brand (not sponsored).

Light a candle and savor every... single... bite. (It will melt in your mouth.)
Again, feel free to tap into your #inneralchemist and play with the ingredients and the ratios of the nuts and seeds. Feel your way thru it and make it your own! Be sure to post your masterpiece for all to drool over and don't forget to tag me so I can see too! Enjoy!