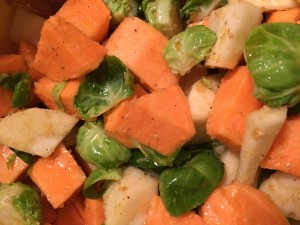 Looking for a way to boost your New Year's Resolutions and bust your sugar cravings? Try these.
Many say New Year's Resolutions don't work, and this is because we often set ourselves up for failure. Resolutions tend to be vague ideas and concepts about what we want, but without a clear understanding of WHY we want it. We want to lose more weight. Make more money. Get more exercise. Feel more organized. The problem is we aren't clear on our intentions around them.
Let's take "Lose more weight." for example. The phrase alone, "more weight" is sending the wrong message. I like the phrase, I want to feel lighter or I want to be able to move with more ease and grace, but that's another blog post all together! 😉
Let's talk about food! We've tried it all… Counting calories, points or carbs, we drink shakes and eat lots of salads. All of it works… as long as you work it. The secret is to build in success by creating a lifestyle around whatever it is that does work for you.

There are lots of buzz words like Reset, Reboot, Detox Cleanse and it's important to have a clear understanding of the definitions so you can make the best choices for your bio-individual needs. Many use these words interchangeably, but there is quite a difference.
Please note… Detoxing and cleansing is not for everyone. Know the facts and don't try this on your own, unless you have support for from doctor or qualified coach.
A Reset/Reboot: These terms are similar to a detox in the sense that most are designed to help you detox from flour, sugar and grain. They are helpful in jump starting you with new tools to reduce sugar cravings, increase the amount of home cooking you are doing and develop new practices.
Detox is the process of removing toxins from your system as a whole. It's about cleaning out your lymphatic system from toxins in the foods we eat, and environmental toxins from cleaning products, skin care lines and even heavy metals so your liver can function properly.
  Choosing cleaner products and less processed foods all help towards detoxing your system on a daily basis. I      love to do a 10 day detox in the Spring and Fall to reset and re-group with the seasons.
A Cleanse is the process of cleaning out your digestive tract specifically. It involves specific, high fiber foods, teas, and other colon cleansing practices that literally clean out and eradicate waste matter in your digestive tract. Things like unwanted parasites, candida or yeast overgrowth and other compacted toxins. This goes deeper than a detox and leaves your system squeaky clean.
People often use these as a ancient practices "diets" but diets don't work. When I hear the word "diet" I think deprivation and short term. Neither of which suggests successful long term solutions.
Ultimately it's about eating clean, whole foods, in moderation and creating a long lasting lifestyle that suits you. It's about living a life you LOVE.
Who doesn't love root veggies? Find some comfort with these….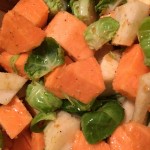 So easy.  So nourishing. So filling. Great as a side dish, served with quinoa or even as home fries with eggs.
Servings

Prep Time

4-6

People

15

Minutes
Servings

Prep Time

4-6

People

15

Minutes
So easy.  So nourishing. So filling. Great as a side dish, served with quinoa or even as home fries with eggs.

Servings

Prep Time

4-6

People

15

Minutes

Servings

Prep Time

4-6

People

15

Minutes
Peel and chop parsnips and sweet potato.

Prepare brussle spouts: cut off bottom, peel off outer layer, cut in half.

Melt butter and coconut oil.

Add in nutritional yeast, garlic and salt and pepper.

Toss together with veggies in a large bowl.

Lay out in roasting pan (or on parchment paper lined cookie sheet for crispier veggies).

Roast in oven for 40-50 minutes. Enjoy. Savor and chew every bite 20 times minimum.

BONUS TIP: The more you chew, the more you initiate the digestive process and activate the natural starches/sugars in the winter veggies to help fight those cravings so you can feel lighter, brighter and more clear headed. Keep nourishing yourself and reaching for your dreams. You. Are. Worth. It.