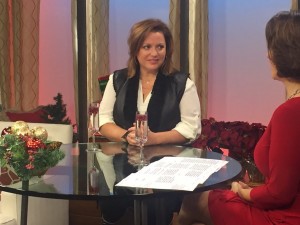 Hey there lovely,
My mission is to nourish and inspire and last time I checked, that doesn't happen without stepping out of your comfort zone. I spent hours on the couch eating pints of sugar and dairy waiting for my Mr. Right to drop down from the ceiling and whisk me off to  my "happily every after."
Unfortunately it doesn't work that way. It would be so much easier if we could just wave a magic wand or twitch our nose and ***poof***! Everything we have ever wanted was right there in front of us. While there is no quick fix or 'magic, make it happen' pill, by making myself vulnerable and open to making different choices…dreams to come true. For example, when I finally put the ice-cream down and stepped into vulnerability and put up a profile on Match.com I found my dream guy.
You really can have it all. You just gotta dare to dream.
Sharing my story and showing my "before pictures" to 100,000 viewers was super scary. I chose to make myself vulnerable by sharing my stories of diabetes and food addiction recovery with Sharon Rose Vaznis on the WCSH 6 & WLBZ 2 Morning Report in order to show you a path to #betterthan.
It felt super vulnerable. In the kitchen, nourishing with food and love is where I am the most comfortable. Sitting there, without plates to spin, or treats to whisk put the camera (and the pressure) solely on me. #fear #nerves
I have been walking through a ton of fear and nerves over the last few weeks as I re-launch my website and take my business to the next level:
What if people don't like it?
What if I don't get it right?
What if I say the wrong thing?
What if I fail?
What if I succeed?
And the answers are: I am…
 …in my truth.
…being held.
…safe.
…strong.
…balanced (most days ).
And I have confidence deep within that I can handle whatever comes my way.
Here's the deal tho… I didn't always feel this way. For me, it's a set of learned skills that I  practice everyday.
Imagine feeling good enough about yourself and having the energy to put yourself out there in ways you've only dreamed of…
Need some inspiration to  get off the couch or shut down the mean girls in your head saying it's not possible? Check out my "New & Improved" 10 Ways to Nourish Yourself & Feel Better Today Experience. There is an amazing group of women who all want to use food and love to look and feel amazing forming in the closed Facebook Group that's included. Check it out HERE, and be sure to spend some time in my new digi-home. I want it to be a place you can come home to for recipes, love and inspiration.
So back to feeling vulnerable… I step into places of vulnerability despite the fear and the nerves knowing it's all worth it because it provides hope to those who need it. I do it to remind you that you aren't alone.
Check out my interview with Sharon (click on image to play video) and let me know your thoughts below.
How does this inspire YOU? What one step can you take today to put your own oxygen mask on first?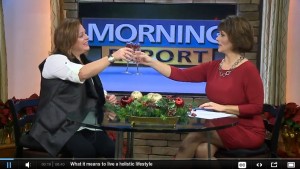 Stay Nourished,
Heidi xo