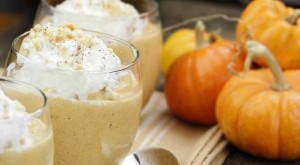 This Holiday Make #betterthan Choices Wherever You Can
 When I am tried and running on empty I crave sugar and caffeine.
We all love those special red cups that come out this time year and the drive thru stuff is delish, easy and fast, but it's also usually made with highly processed sugars and other ingredients I can't pronounce, so taking the time to make it at home with less processed and organic ingredients makes it so much more nourishing.
Let's talk sugar! 
The most highly processed sugar in the food chain is high fructose corn syrup. It's just not good for you. It is related to so many health problems like childhood obesity, diabetes, heart disease, chronic pain and inflammation.  Not that I've ever had crack, but they seem similar, they both go into your blood stream hard and fast and leave you wanting more. 
Next on the list is processed white refined sugar… It's a few steps up from high fructose corn syrup, but it's still a very high glycemic sugar and super refined allowing fast and easy access to your blood stream. 
 Moving on, we have coconut palm sugar. It's lower glycemic meaning it takes longer to process and doesn't give as much of the spikes and valleys. It's still a granulated substance so those with strong sugar cravings should be careful with this. If it leaves you with too many cravings you may want to stick to raw honey or maple syrup.
Personally, raw honey works the best for me, plus there are so many healing benefits with raw honey.
Bonus Tip: How to know which works best for YOU.
It's all about bio-individuality. Play with "upgraded" sugar choices and see which ones leave you the most satisfied with the least amount of cravings. And keep in mind, if you are really struggling with sugar cravings the best plan may be to completely eliminate it all together for a period of time. 
Watch my segment on WCSH 6 & WLBZ 2 for more tips and a demo HERE.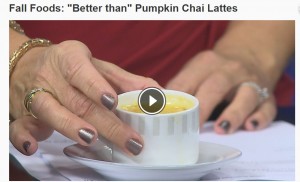 Pumpkin Chai Latte: (Serves 2-3)
Ingredients:1 bag of Caramel Chai tea and 1 bag of Pumpkin Rooibos Tea brewed and hot. (I used Trader Joe's brand, but you can also skip this and only use chai)
1/3 cup Canned Organic Pumpkin
2-3 tablespoons sweetener (coconut sugar, raw honey, maple syrup)
1/4 Nut Milk (cashew, almond, coconut) or regular dairy works in moderation too as long as you don't have a sensitivity.
Add all ingredients to blender and blend well. Top with Pumpkin Pie Spice for flavor and garnish.