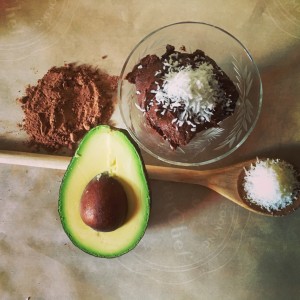 Craving chocolate?
This recipe will scratch the itch and nourish you at the same time.
I don't know about you, but I love chocolate. Like a lot. It tastes so good. I crave chocolate in the evenings after dinner. You know that little somethin' somethin' you want after a meal…? We call those "num nums" in our house. I've never had to spell it before, but as I type it out, I realize it could also be spelled: "numb numbs" as numbing is certainly what it does.
I have a big sweet tooth (sugar is a drug) and I'm always looking for #betterthan ways to enjoy the sweetness in life, but not put highly processed sugars and flours into my body. Maintaining, and teaching a low glycemic and anti-inflammatory diet and lifestyle allows me to look and feel my best.
Here is one of the 1st recipes I made while attending the Institute for Integrative Nutrition. I had a hard time wrapping my brain around it at first, but once I did… man oh man. I was hooked. It's a guilt free treat that not only satisfies the cravings, but it's full of nourishing properties  as well.
Let's break it down…
Health Benefits of Avocado
Rich in anti-inflammatory omega 3's.
Helps lower cholesterol.
Helps balance blood sugars.
Good source of protein.
Optimizes brain health.
Great for hair, skin and nails.
Improves digestion.
Boosts metabolism.
Health Benefits of Raw Cacao (Like cocoa but way less processed, closer to the vine and #betterthan. It is also full of vitamins and minerals that actually get to the root of what your body is craving.)
Rich in magnesium.
Improves/enhances mood.
Great for cardiovascular health.
Detoxifies the liver.
Reduces appetite and helps in weight loss.
Helps increase focus and alertness.
Rich in anti-oxidants.
Aphrodisiac
Health Benefits of Local Raw Honey
Supports Immunity.
Boosts energy.
Helps manage seasonal allergies.
Anti-septic.
Anti-bacterial.
Improves digestion.
Rich in anti-oxidants.
Soothes burns, sore throats and coughs.
So as you can see, not only are you satisfying your sweet tooth, but you are nourishing yourself at the cellular level as well. I store it in little plastic condiment cups and make grab and go pudding cups. Great for school lunches, treats on the run or even easy storage for that after dinner delight.

Cut avocados in half, remove pits and scoop out flesh into mini food processor or blender.

Add raw honey and process until smooth.

Add nut milk and raw cacao and process until well mixed. You will need to scrape the sides down a few times and possibly add more nut milk to get it to blend together well.

Spoon into glass serving dishes or condiment cups, top with unsweetened shredded coconut and enjoy!

Store in fridge for 3-4 days.