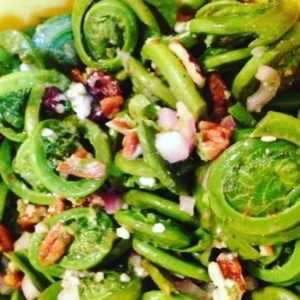 Ferns. Every Spring I watched my Great Grandmother pick and eat ferns. I thought she was crazy.
She ate dandelion greens too. Turns out this wise old women knew something about nourishing herself; because I eat both of these this time of year!
Nourishing Benefits of Fiddle Heads:
Rich in the anti-oxidant Vitamin A and Beta Carotene, which converts to Vitamin A in the body which supports skin vitality and can prevent certain types of cancer.
Great balance of Omega 3 and Omega 6 fatty acids which help manage inflammation and auto-immune responses and support heart health.
Full of Vitamin C to support your immune system.
Great source of minerals and electrolytes such as potassium, iron, manganese and copper;which help support health thyroid function and reduce symptoms of anemia.
Local, hand picked, comfort food.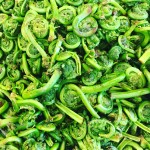 Delicious, and fun way to enjoy this delicacy. Did I mention it's super easy to make too? This salad is a meal all on it's own, but is also a great side for your weekend BBQ.
Servings

Prep Time

6-8

Servings

10

Minutes
Servings

Prep Time

6-8

Servings

10

Minutes
Delicious, and fun way to enjoy this delicacy. Did I mention it's super easy to make too? This salad is a meal all on it's own, but is also a great side for your weekend BBQ.

Servings

Prep Time

6-8

Servings

10

Minutes

Servings

Prep Time

6-8

Servings

10

Minutes
Steam fiddleheads for 10-12 mins (don't over cook)

Run cold water over them and pay dry.

Whisk the dressing, (EVOO, ACV, balsamic vinegar, lemon juice and salt and pepper) and set aside in glass jar.

Combine, pecans, cranberries and cheese and set aside.

Combine all ingredients just before serving.

Chew each bite 20 times and enjoy! #nourishyourself